Are You
A
Resoursful
Nigerian
In Russia?
Then
On Facbook
Приглащаем
к сотрудничеству деловых людей, фонды и организации, с целью привлечения инвестиции и укрепления экономического развития наших стран!
| | | |
| --- | --- | --- |
| | You are highly welcome To the official website of Nigerians In Diaspora Organisation Russia (NIDO-Russia) | |
NIDO-Russia is a Chapter of the Nigerians In Diaspora Organisation Europe (NIDOE), the European arm of a global network of Nigerians in Diaspora, with Headquarters in London. Other continental arms of the global Nigerians in Diaspora are in the Americas (NIDO-Americas), Asia (NIDO-Asia) and Africa (NIDO-Africa).
NIDO-Russia was established as a forum for Nigerian professionals residing in Russia to participate in the development of Nigeria. Serving as a platform for Nigerians to network, NIDOE-Russia is committed to tapping into the knowledge and skills of Nigerians and Russians in both countries in concert with other Nigerians in the Diaspora.
With the recent constitutional reforms and constitutional amendments, which was adopted by all the chapter chairs and ratified by the General Assembly in November 2016, during the AGM in Athens, Greece; this Nobel organization has been expanded to embrace all Nigerians in Europe, through the chapters in host countries, so as to enable all Nigerians to join efforts and offer their skills, knowledge and support to national development, peace and in spirit of brotherhood.
The Government of Nigeria (both at the Federal and states levels) recognizes the Organization as the official platform through which individual Nigerian Diaspora, their community organizations, and corporate bodies can channel their developmental efforts to Nigeria. In this sense, the Organization aims to partner with Russian and Nigerian professional organizations, as well as public and private businesses in focused areas such as Foreign Direct Investment (FDI), professional networking, stakeholder advocacy, medical missions, educational support and technological and IT skills transfer to Nigeria.
With the establishment of the Nigerian Diaspora Commission, a law which was signed by acting Vice President, Prof. Yemi Osinbajo in July 2017; we are witnessing a new foundation that will enable us improve investment atmosphere while working closly with the Presidency, the Ministry of Foreign Affairs, The Senate, House commitees on Diaspora Affairs.
Embarking on new policies on Economic Diplomacy, Nigerians In Diaspora Organisation now stands more privileged than ever before to be heard and cooperated with by all the organs of government in Nigeria. All Nigerian Embassy Missions are directed to enhance the functionality of NIDO in their areas of accreditation.
NIDO Russia is a non-government, non-political, a true pan-Nigeria Diaspora organisation, devoid of any ethnic, gender or religious differences. The core vision of Nigerians in Diaspora Organisation is therefore, to develop effective, unified platform for resourceful Nigerians abroad to harness their talents, expertise and resources for Nigeria national development and nation building and also to encourage and assist foreign investors to invest in Nigeria. Just as the Organisation's motto goes "In pursuance of National Development", NIDO Russia has resolved to continue to strive to greater heights in the achievement of this goal.
This website is aimed at getting you acquainted with information about the Organisation, its aims & objectives, organizational structure and its activities in mobilising Nigerian professionals and other interested parties in Russia for Nigeria national development.
To read more on other details of the Organisation's Aims and Objectives, membership requirements and its management structure and contacts, or if you wish to partner with us, please go to the appropriate pages of this website. You can also write us at nidorussia@yahoo.com
On behalf of the NIDO-Russia Administration, We wish you happy surfing!
Rex Essenowo
Chair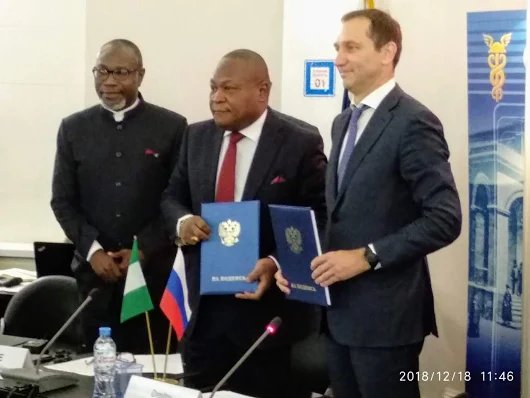 ---



23rd - 24th October

Russia - Africa Economic Summit, Sochi
5th - 6th November
Nigeria diaspora Investment Summit 2019 - Abuja

2

4th - 26th

July

2019

Diaspora Day

2019

Celebration

in Abuja

2

4

th - 2

6

th

July

2019

A Week in Nigeria / A week For Nigeria

4th - 5th

July

Nigeria - Russia Business & Inv. Forum (Moscow)

19th - 24th May

Russia - Nigeria Business Mission (Lagos & Abuja) by ACCI, LCCI & BCRN

June 2019

NIDO Russia Business Workshop (Moscow)

18th

Dec

. 2018

End of Year Meeting of Business Councils

RUSSIA

N

igeria & Diaspora Business Conference

2018 (Moscow)

8th

-

10

th

Nov.

-

N

IDO AGM

2018, Vienna, Austria

10th - 13th Oct

2018

-

Golden Autumn Agro-Industrial Expo

24th Nov.

2018

- NIDO Russia

Gene

ral Meeting (Project Comm/ Exco)
2

6th

-28th July

-

Nigeria Diaspora Global Conf.

2018, London, UK

1st OCT. 2018

- Nigeria's Independence Day Celebration

16h June - 1

5

th July

- FIFA World Cup (Soccer) Championship in Russia
---
Events

Calender

10

th May 2018

- Africa Union Day

Celebration

2

6th

-28th July

-

Nigeria Diaspora Global Conf./

Business Summit 2018, London, UK

1

6th - 17

t

h Feb

201

7

- NIDOE's Leadership Summit, (Retreat 2017) Germany

25th March 2017 - NIDO Russia Extraordinary meeting on Recession

29th April 2017- - Project Summit, Dortmun, Germany

20th OCT

. 201

7

-

-

NIDO RUSSIA DAY 201

7 (St. Petersburg & Moscow)

9-11th NOV. 201

7

-

-

NIDO EUROPE

's 2017

AGM

- Lisbon, Portugal
ON HIGHLIGHTS
NEW PERSPECTIVES FOR RUSSIA- NIGERIAN RELATIONS
---
Buziness Africa interviews Arch. Eric Eyutchae on Booming Urban Construction
---
NEW DEVELOPMENTS:
FORMATION OF EXPERT COMMITEE FOR NIGERIAM RUSSIAN SME, INVESTMENT AND TRADE COOPRATION
---
NIDO RUSSIA APPOINTS 4 TOP SPECIALISTS AS REGIONAL CORDINATORS IN RUSSIA EFFECTIVE INVESTMENT DRIVE.
---
ADVERTISE HERE!
EVENTS
29 April. 2015 -
1 day Workshop (Business Conference with the Inst. of Africa),
Moscow
6th-7th May. 2015 -
AFRO FEST, Moscow & St. Petersburg, Russia
Sept. 2015 -
NIDO Russia-Buziness Africa Investment Conference
For more info please, click here